Okay, we aren't in the picture (that'll have to wait until a set of parents shows up to hold the camera), but here's our house! We're so excited and so blessed...
I just love bungalows. This isn't a Craftsman, my very favourite kind, but that's okay. ;) It's cute anyhow and we're really excited. :) We were mostly just looking at older homes - from the 1930s to the mid-50s - because of the charm and personality they have. This is a 1951 Cape Cod, so it's a "young" a doll of a home (especially the coved doorways in the foyer, kitchen, and living room). Cute and friendly-looking, don't you think? I can't wait to put in a pretty little fruit tree out front. Also, we're so happy to have a front porch; to us, it's a must-have.
Now, a little is landscaping necessary, as it was a bachelor living here, after all, and they tend to not be big on flowers. A flag I've had for a few years will be hanging on the porch, and of course the door needs to be painted red. (Of course!) Although I am increasingly being tempted by the idea of a
lime door
.
I'm not sure what we'll do with the garage door at this point...I was joking that we should paint it red with a big Red Wings logo on it, but of course I'd never actually
do
that.
This site
has some nice-looking doors, and actually,
Sears' selection
isn't horrible either. Kind of surprising.
Some window boxes - just the front windows, not the two side windows into the living room (such a cool feature, tons of natural light) - would be really cute as well. I have to thank
Candace
for reminding me of this possibility.
Thankfully, the interior? All brand new. As in brand-spanking new, because the former owner planned on being here forever when he bought the house about roughly ten years ago - until he got engaged and the new couple decided to move in to in a different home, hence they're selling their present homes. New roof, new kitchen, new A/C (oh, thankfully...)...what a blessing!
Oh - see that gorgeous oak tree in the backyard? Ours! Hurrah!
Get a load of the bathroom:
!
Original tile from 1951. I'm pretty sure it's the most fabulous bathroom ever. That picture is what got me to even look at the house in the first place, since there were no exterior shots. It's just darling, don't you think?
I'll definitely be asking for colour suggestions regarding towels and such. Right now our bathroom is a cool-toned sage-y green, but sadly, the towels (a wedding shower gift) lost their dye amazingly fast, leaving them all very splotchy and quite bad-looking. We'll need at least a handful of pretty ones just to look at (we can still use the splotchy ones). I'm not sure I'll be able to find towels that match that shade of aqua-turquoise, and black seems a bit too masculine for me...though i suppose I could add an embroidered aqua-turquoise band of cloth to the towels. Still...too masculine. This is going to take some thought. I've condsidered carefully painting the black tiles a very deep chocolate, but...we shall see. I'm loathe to mess with something so classic. Feel free to share your thoughts!
Okay, here's the kitchen - finally, enough room to really work. Every good cook should have more than 2 square feet of counterspace with which to work.
Not necessarily our style, but quite lovely and workable as-is just the same. It won't stay that way for terribly long, though, because we'll be hauling out the laquer paint and glass tiles to recreate something like this, which I saw at
decor8
:
Definitely not for the colour-impaired, but I think it's fabulous and even Hubby didn't shirk away in fear. Kitchens ought to be cheery with just a hint of playfulness to them...We won't be smashing anything apart, just painting and adding tile, lighting, new countertop (the one shown is
lava stone
). Someday; the kitchen isn't "perfect" to my tastes, but I can paint the walls a different colour and live with it for a while.
Do pardon my poor cropping here, but I am glad I was a little lazy and forgot to cancel my subscription to
ELLE Decor
as soon as I'd planned (it's been lamentably unlivable and the March issue was my last straw) - because this is the perfect living room! We even have similar furniture in nearly these exact colours.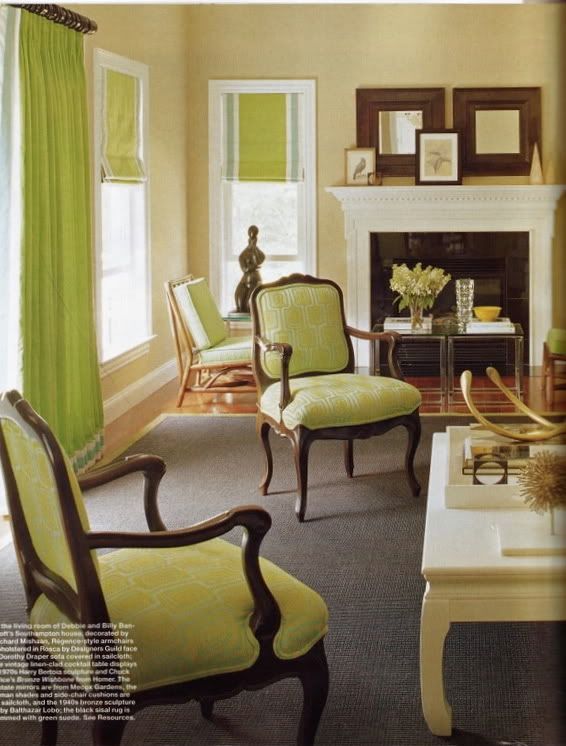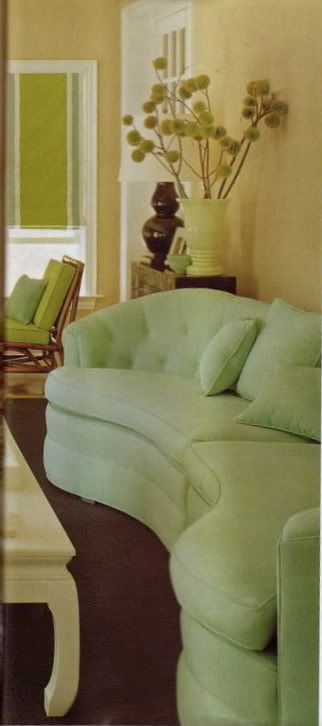 I can paint the walls (painting, to me, is great fun) and then make the curtains. It should be lovely. The colours are cheerful but peaceful. Perhaps in the winter I can switch the curtains out to some with pretty jewel tones to coordinate with the furniture - a bright coral or red might be nice to perk things up during the dreary months.
First things that need to be done? We have to put an electrical outlet in the bathroom, since the new lighting fixture has covered it up. We'd like to do the upper level first - put up the drywall, paint, and turn it into a master suite. There is wood paneling up there (aaaaagh!) but that won't be too hard to tear down and replace. It's a very large upper story for a bungalow -
very
large. We also suspect, having seen the pre-photos thanks to the previous owner, that there's hard wood under the (new) carpet and might very well refinish that as well if it's necessary, which it probably is, but don't you think it'll be worth it? That way, too, the main-floor bedrooms will leave us one room for a studio and one room for guests.
Hubby would also like to refinish the wood floors on the main floor; it's covered with a nice, simple carpet right now, but wood is just so beautiful, warm, natural, and doesn't hang onto dust and kitty dander. It's probably a little more economical to clean as well. Again, though, we have plenty of time.
Of course, I've already got a gigantic stack of paint chips. I can't stand white walls, especially after years of apartment life and 5 years working at a major ad agency that seemed to think battleship-grey walls inspired creativity and productivity. It'll be great to have colour again! It should really help me settle down and focus on work...I feel anchorless and a little heartache-y without colour surrounding me. It will be fabulous, fabulous to have colour on my walls at last.
It's such a wonderful thing that the house needs no major work - just our own personal touches. Praise God! He has really blessed us; this gem sat on the market with no visits, even, until we came along. The seller is wonderful, too. God is good. Can't wait 'till we move in...a new, bigger kingdom for
Remmy
, too. ;)
(Do you know, one of the first people I showed the house to...negative comment was the first thing I got? *sigh*)
So, that is our big news. Time now to start packing some things, though we'll probably hire movers for the big stuff. We may have the keys as soon as this week (we closed Tuesday), which would be fantastic - we can do a lot of the work before even moving in, since we have the lease on our apartment until September 1 (but trust me, we'll be in the house as soon as it's feasible). My dear parents are planning to come out in a few weeks to help with whatever we need help with - Mom is another organizer like me, and my dad is an incredible handyman.
(The only issue is a housewarming. I think the love and laughter of family and friends and joking about minor food mishaps - "Um, who put pepperoni onto this spinach salad?" - make a house a home more than any decorating ever can, but we live a minimum of 5 hours away from fam and friends. Hm.)
It's all very exciting and definitely one of those "suddenly" things. It's getting more exciting now that we've closed, and I may well explode the day we get the keys!
Labels: personal