I saw two really cute, fun dresses and just have to share them. Since we have family visiting this weekend, I'm trying to get things done early and fast anyhow, and when these popped up from eBay...
First up is this
red cutie
. A vintage dress from the 60s, it has a fabulous drop-waisted flared skirt. The trim is in dark blue and red, a punchy compliment to the bright red knit. This one is perfect for, really, just about anything. The lines are so clean and flattering...overall, this is darling. There is a small soil mark on the back of the collar, but it looks like it should come out quite easily; if you have at least shoulder-length hair, it may not even be a problem if you or the cleaners can't remove it entirely.
The measurements are 41-35-45, and the bidding starts at just $9.99. Auction ends next Thursday, the 15th.
The other dress I stumbled across is
this one
, another larger-sized vintage dress, this one apparently a homemade wrap dress.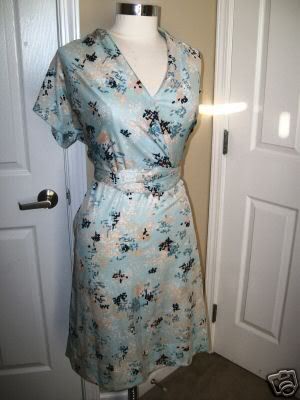 Though it's a little difficult to discern the pattern, the colours are soft and lovely, a springy combination of blues, creams, and browns. It's very pretty and another versatile piece. The measurements are 46/48-42-56, and it even comes with a matching belt. Bidding starts at $13.50, and the auction ends Sunday.
Have a wonderful weekend!
Labels: dresses