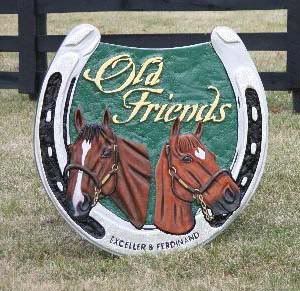 Before I get to the cute of the night, I simply have to tell you that a charity of which I'm a big fan,
Old Friends
(a Thoroughbred rescue),
will be featured on CBS Evening News
tomorrow (Thursday) evening. I know, I know, it's Katie Couric's show, but she isn't doing the feature, Richard Schlesinger is. It should be fun to watch; Schlesinger spent "several hours" with the farm's 23 adopted retired racehorses, including Sunshine Forever, Swan's Way, Special Ring, and Special Deelites, who played Seabiscuit in the
Seabiscuit
movie.
Hubby and I visited Old Friends on our trip to Lexington in April, and I got tons of fantabulous shots (none of which I've uploaded yet, but that is beside the point and they're worth the wait, believe you me - I'm really happy with them). The volunteers - it's a completely volunteer-run and funded organization - are wonderful people and the horses are pretty happy for animals who were rescued from near-certain death. I am extremely cautious about the charities I support and give props to, but this is one that's completely safe.
(And they will probably never complain should they receive a box full of peppermints in the mail, either.)
Now for the cute, and as you can see, it's extra-fun and thus perfect for summer (because we all know we lack the energy for 'extra fun' in winter, right?). Once again I couldn't settle on just one bag, so I chose my two favourites for you. The first is the
red floral birdie purse
. A flower-bedecked bird perches on a red polka-dot grosgrain ribbon against a field of orange-and-white vintage upholstery fabric Janice found at a thrift shop (now, how's
that
for upcycling?). The bag is lined with the same fabric our pretty little bird is made of. The purse is on sale for $32 and is quite roomy at 11.5" x 10.5" x 3" - and you know what? It's one of a kind! Just like you... *wink wink*
The other purse is this fabulous
mod sparrow shoulder bag
(yes, another avian friend). It's another good-sized purse, the right size to hold all of your daily needs and maybe even some reading, and displays a white vinyl sparrow appliqued onto turquoise corduroy (it looks to be a summer-friendly light pinwale cord if you're concerned about that sort of thing). There's a really fun mod polkadot print that goes all the way around the purse, forming the base, the sides, and the handle of the bag. It's lined with pale pink polkadotted fabric with a handy pocket inside that matches that fun mod print. There are just two of these left at $42 each - there's none of the fabric left to work with so this is very limited edition.
Both bags are from the wonderful (and wonderfully named)
Copacetique
, which shuttered its doors earlier this year but just had to come back, and lucky us! In addition to cute bags, they sell jewelry, vintage duds, and even home accessories with which to decorate your nest. Just the name "Copacetique" alone should get you to visit, especially because it's a name I thought would be fun for my own shop until I realized it was already snapped up. But it's all right - this shop has earned it!