Not many people like Mondays. After a weekend of sleeping in a little bit, relaxing with family and friends, enjoying the sunshine and fresh air, it's really hard to have to get up at 5:30 so you can work out, hit the shower, feed all the people and pets, get dressed, and then race to the office through clogged traffic so you can hurry up and wait all day long. About the only thing that makes a lot of Mondays bearable is that hey, at least we can listen to other people's weekend stories and share ours over coffee or tea and maybe the cupcakes or cookies some blessed person brought in (day one is most likely to fall off the healthy eating bandwagon: Monday).
Personally, I've always found that wearing something especially fun and cute on Mondays helps take the edge off the return to drudgery (also, I can't tell you how many times I've wondered what the world would be like if people were actually in jobs they were competent at
and
enjoyed; wouldn't it be all-around happier?). Whether it's something with a fun print or a funky piece of jewelry, there have always been several cheery, all-season go-to items in my closet for Mondays. Not only does it perk up my mood, if it's especially cute, I guarantee what you're wearing is going to bring smiles and cheer to everyone else, too, something that's always kind to do.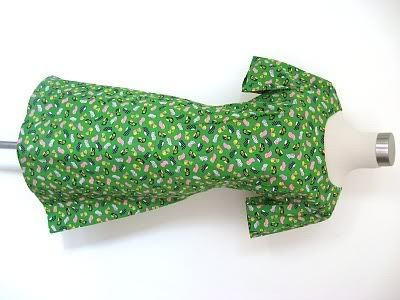 If you ask me, this adorable handmade
wooden shoe dress
from
Femmina Style Vintage
is an ideal candidate for any Monday. The bright, unashamed green; the simple and flattering kinda-square neckline and a-line skirt; the tiny wooden clogs decorating every inch.
Clogs? Yes! Isn't this adorable!
This dress is cute as-is, but would also look darling with a belt around the waist. 100% cotton, it's going to be very comfortable. The short sleeves mean throwing on a sweater for extra warmth or protection from those occasional summer-storm brought chills. This is probably a medium, with measurements of 36-34-36. Just $26.50 and definitely one-of-a-kind!
Labels: dresses